With the house in the state it's currently in, I've decided not to decorate for Christmas. I will confess, it's killing me! I love Christmas decorations and it's a bit painful to read all over the internet that people are putting up their trees and their Dutch Time Pieces!
My sister and her husband just put up their tree: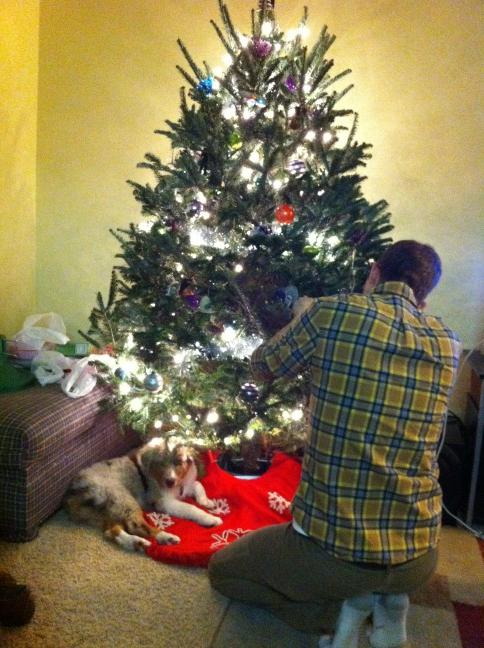 and I pass by the Medford Town Hall every evening on my way home from work.
(Photo source: Wicked Local Medford)
 Tuesday evening we went out to dinner to celebrate some good job news for Stefan.  We also stopped by target to get cat litter.  You know, to round out our romantic date.  Target is fun and they have tons of Christmas stuff out so we did some browsing.  I had seen these train stocking hangers from pottery barn and fell in love but $35 each is a bit steep.
I figured someone else must have train stocking holders and I was going to find them. Â Low and behold, Stefan spotted these beauties at Target for $25 for the set!
I love them! Â I told Stefan this means we can't have more than 2 kids. Â We are a family a 4 and that's the end of it! Â I've already called the caboose. Â For now I guess Vector will have the train cars…spoiled kitty. Â 2 stockings?
Since I won't be actually doing any Christmas decorations I'd share what I would be doing if time and dust levels allowed, I'll make sure to add some christmas lights led around the house.

I love this stair treatment. I like that it doesn't get in the way of the handrail like some garland treatments. I have two different areas for stairwell treatments. One in the entry way which will be more naturalistic and complement the wood tones. The other is in the kitchen where I want to do a more kitchy vintage look. I'm thinking perhaps some cute bunting or even white tinsel garland and pink ornaments. Or even some cute christmas card garland. I've been thinking that using old christmas cards, cutting out circles, and just sewing them together would make for some cute, quick, and easy Christams garland. Here's one example (minus the Christmas cards) from Curbly.com.

As far as the front of the house, take a look at this inspiration picture:

I love the lighted tree on the porch, the wreaths on the posts, the garland on the railing, the lights in every window, etc.  I'd really love a pair of trees in urns or just neat pots on either side of the door.  I'm also thinking that in lieu of wreaths on the posts, of hanging large ornaments between the posts.  The wreaths look really good on the double-posts but I don't have that.  At first I was thinking kissing balls but they get expensive and they have some neat big gold ornaments that I think would be kinda neat.  I'm also all about the flood-lights to illuminate the house.  Our house is so pretty that it really needs minimal string lights and just an ability to see the non-lighted decorations.
Lowes has these great urn-trees: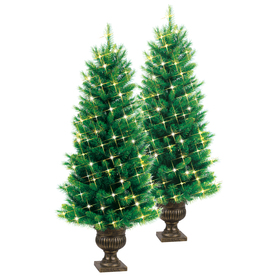 and these are some cool extra large ornaments. Click on the pictures for a link to the seller's site.
Lots of ideas. I love Christmas!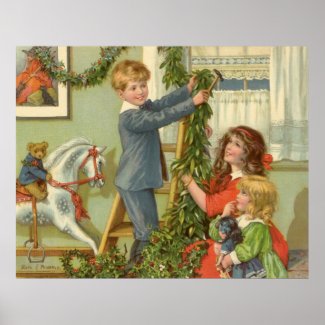 I hope this holiday season is a good one for all of you. Remember to take a minute and remember the reason we celebrate this day every year.
Merry Christmas,
Sarah