We were up until nearly midnight on Sunday night getting these lights installed.  I think we're going to be playing with 3 and 4 way switches for a long long time.
Over the dining table area we went with this fixture which I LOVE.
We added the ceiling medallion to help cover the ceiling patch but it looks so good I'm glad we did it.
On the other side of the kitchen, we're planning on 2 of these fixtures from Lowes.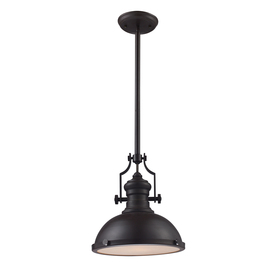 We've got one installed but the other is going to take a little more work.
The best part – All the switches work! The light over the kitchen table is a 4-way with 3 switches: one next to the back door, one next to the door from the hall, and one on the stairway. It's awesome!
Now we just need to get the kitchen cleaned up. It's gotten a bit out of hand! and then it's the final light in the middle of the kitchen and the undercounter lights and outlets. It's finally shaping up to be a real kitchen!
Sarah